THE ST HILAIRE  CELLARS STORY
St Hilaire Cellars president Gary L Jackson grew up in Yakima and ventured across the Cascades to Seattle where he graduated from the University of Washington Foster School of Business. After honing his marketing skills at an advertising agency and Boise Cascade Corporation, he started a newspaper and built it into a major publishing company with the largest paid circulation weekly in the Northwest and a number of other publications, including tourist guides, tv guides, specialty newspapers and college catalogs.
Gary and his wife Christine, built a major thoroughbred breeding and racing operation in the early 1980's and still remain involved in the sport.
He was twice appointed by the Governor as a Washington Horse Racing Commissioner. The couple owned thoroughbreds like Desert Wine, who ran second in the Kentucky Derby and Preakness and Triple Bend who set the world 7-1/2-furlong speed record and won the Santa Anita Handicap. The Triple Bend Handicap is named after him at Santa Anita every year, with a $300,000 purse.
In 1991, Gary started St Hilaire Cellars when there were only 75 wineries in the State. His concept was to provide private label wine to country clubs. The idea worked well and soon restaurants and others wanted their own labels on wine.
Fast forward to today. and St Hilaire Cellars is the Northwest leader in private and custom label wine, with a substantial portfolio of country clubs, resorts, restaurants, event centers, and private businesses. Their diverse clientele speaks to the quality of their wine with great service and reasonable pricing. Besides commercial customers, happy clients include the Seattle Seahawks, Mt. Rainier National Park, City of Spokane, charities, realtors and folks who want a special wine to celebrate a birthday, wedding or anniversary.
With operations and personnel across the state, St Hilaire Cellars is ready to serve your custom label wine needs.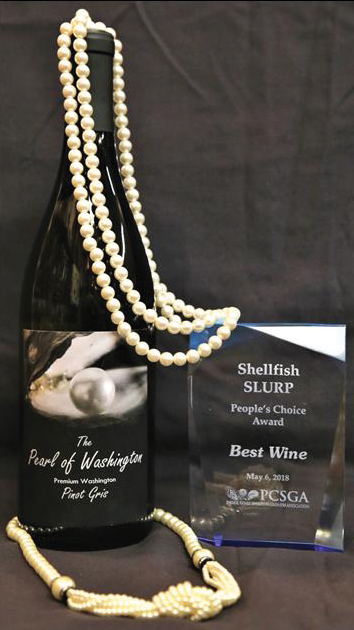 IN 2018, St Hilaire cellars Pinot Gris took the BEST WINE TROPHY at the 20th annual Pacific Shellfish Growers Event in Olympia. Besides winning the trophy against some of Washington's best white wines. We donated two blockbuster items to the live auction – a bottle of Pearl Wine with an 18″ strand of pearls, and a bottle of Pearl with a 6-strand pearl bracelet. Both brought major bids with proceeds going to shellfish bed preservation.
GIVING BACK
St Hilaire Cellars is a firm believer in giving back to worthwhile charities. Our private label wine recently brought $9,500 for WSU Medical School Scholarships, and we have ongoing scholarship programs with the UW School of Aquatic and Fishery Sciences, as well as the WSU Hospitality Major Program. Animal rescue, medical, women's issues and youth charities have also benefited for St Hilaire Cellars donations of private label wine.
WSU MEDICAL SCHOOL WINE with bottles signed by the Dean of the Medical School. Fifty Bottles sold for $100 each, with $5,000 going to medical school students for scholarships. At the 2017 Medical School Gala, four bottles of St Hilaire Cellars private label wine brought $4,500 for Medical student scholarships.